Eternal bench Inspector—the best friend for patch cord, ferrule etc., fiber kits production.
Surely it will be no surprise for manufacturers to use inspectors in the production QA work. But how to guarantee the quality of inspector performance, efficiency and duration is one significant consideration before the job. Over ten years' profession and experience, Eternal again refines the inspector to promise the quality, offering the customers the most benefits of the product. The detailed measures are listed as below:
1)Resolution
High resolution guarantees the clear observation of scratch, dents with ease. As image shown, Eternal inspector performs superior resolution compared with the regular inspectors. It can figure out defects easily and reduce the potential risk of rework issues with respect to the traditional one apparently.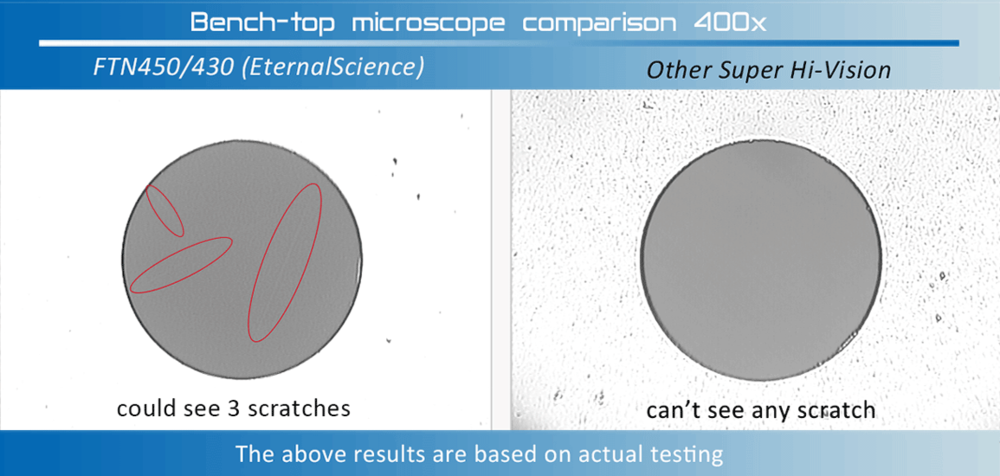 2)Calibration
The focus way is specifically designed to operate smoothly for calibration, no slide or jump possibly occurred within regular inspectors to guarantee test efficiency and stability.
3)Centralization
The adjustable x/y-axis roller again guarantees the image centralization with long use.
4)Large field of view
The adjustable x/y-axis roller again guarantees the whole end face check without expenses of high resolution.
5)Duration
Electrical imaging system lengthens the inspector work life to three year on average, reducing testing cost greatly.
6)Clamp
High-precision clamp promises repeated same batch fiber check without calibration and improves efficiency greatly.
7)Extension Functionality
Additional USB module and fiber end face data analyzer can be ordered to record/save on-site fiber data with documentation and further research.
To help clients save cost radically, Eternal now offers free service of obsolete equipment upgrade. To refresh your inspector, to get a better performance. Please connect with us for more.